Fearless Conversations School Leaders Have to Have
by Vera J. Blake and Irving C. Jones Sr.
Foreword by Bill Daggett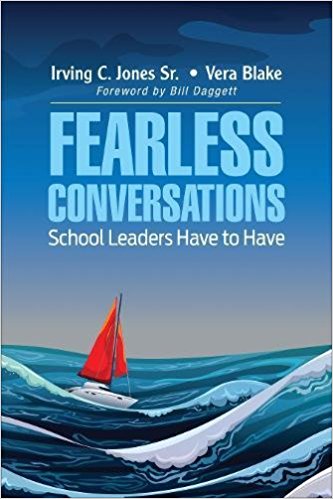 Step out of Your Comfort Zone and Really Help Kids
To meet the needs of today's learners, fearless leadership is required to support and empower the adults who work with these learners. Anchored in research, Fearless Conversations is a guide to recognizing and using strategies that encourage staff to work at their full potential, build trust, and strengthen collegiality. Strong, courageous, focused, collaborative leadership is a win-win approach for all stakeholders. Readers will find
interviews and case studies to illustrate effective practice
strategies to help them move from traditional methodologies toward stronger transformational leadership
vignettes and examples to ignite additional thinking to facilitate achievement for all students
Written for aspiring, new, and experienced school leaders, this is a must-read for anyone who wants practical strategies that they can use immediately to build a culture of learning and improve academic achievement for all students.

Chapters
Creating and Sustaining a Viable Work Environment
Crafting and Supporting Strong Missions and Visions
Improving Through Effective Feedback
Increasing Parent and Community Stakeholder Partnerships
Managing and Sustaining an Organized, Productive, Ever-Changing School Culture
Boosting Collegial Climates by Providing Embedded Professional Development
Planning for Success
Book Reviews
"This book is timely, practical, and clearly anchored in the rich leadership and coaching experiences of the writers. This book is a must read for all leaders and aspiring leaders at the building and central office level. This book will also be useful at the university level where new leaders are being prepared and inspired."
Retired Superintendent
Southfield, MI
Southfield Public School District
"The title of this book, Fearless Conversations School Leaders Have to Have, invites educators of all levels of school reform to follow the authors on an authentic journey to find moral and ethical harmony while discovering best practices for teaching and learning, alike.

The core principles of each of the seven chapters convey an inspirational repertoire of school improvement designs, strategies, organizational tools, and reflections. Any supervisor can utilize these principles when leading of school and/or organizational transformation. The authors' use of humor to illustrate the intricacies of engaging in powerful conversations via formal and informal contexts offers opportunities to better understand differing perspectives."
Former President (2015)
Learning Forward, Inc.
Oxford, OH